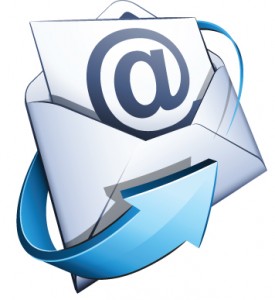 If you have a website, you should be capturing the email address of your readers.
Sure you can encourage them to engage with you in Facebook, but you don't control the platform, and with Facebook's constant updates, your message is competing for visual space and is being seen by less people every day.
Here are the top 5 locations for signup form placement on your website:
#1 Feature box at the top of your homepage
This is without a doubt, the most eye catching location for visitors who arrive on your websites homepage.
If you have an enticing call to action, your signup rate will sky rocket!
You may have noticed that we don't have one here at Money Making Business Websites yet, and for good reason. The feature box is best left until you have enough high quality content, that your site is regarded as a valuable resource to your readers.
Let your content be your message when you're growing your website, and then add the feature box only once you have sufficient traction.
#2 Website sidebar
As your sidebar is part of most of the pages on your website, it's an obvious place to put an email subscribe form.
This may seem like common sense, but you would be surprised how many people fail at having their email subscription form in their sidebar.
The best spot is at the very top, above the fold so that it captures your readers attention without them needing to scroll down the page.
#3 At the end of your blog post
Having a strong call to action after you've just shared a piece of valuable content is the perfect time to ask your readers to subscribe to your email list.
With our testing to date, the signup area immediately after a blog post is one of the highest converting areas on your site. It makes sense, as you're not asking for a general signup for no reason, but rather explaining to your readers that signing up to your email list is the easiest way to stay up to date with content just like they have finished reading.
To see a working example of this, scroll down to the bottom of this blog post.
#4 Your about page
After people have read through a blog post or two and maybe your homepage, your about page will be next on their hit list.
Open up your Google Analytics account and you'll find that your about page is amongst the highest viewed pages on your website.
This is a great opportunity to create a strong call to action to join your email list.
Check out our about page to see an example.
#5 Facebook Tabs
It's a pretty well known fact that you don't want to be relying on your Facebook page and it's "likers" as your main source of contact for your readers.
What's less known is that if you choose to use Facebook Ads to increase your readership, you pay significantly less when directing the click for your ad to a Facebook page rather than a website.
One of the great things about pages on Facebook, is that you can embed mini webpages within tabs of your page and still get your visitors to subscribe to your email list from within your Facebook page.
Which one should you use?
All of them!
Of course it's industry specific, and you want to be sure that your call to actions don't detract from your content and it's message, but most business owners can benefit from adding an email signup form to each of the above locations.
Above all, make sure that you are tracking each signup area so that you know which ones are converting and which ones are not. With this information at your fingertips, future tweaks to your call to actions can be s based on data rather than best guessing.
Where do you have your email subscribe forms on your website, and which areas are working best for you? Share in the comments below.