John Mueller, a Senior Webmaster Trends Analyst for Google announced today that Google will change the way it displays Author information within their search results pages.
Authorship was introduced by Google in 2011 and whilst they have never announced it's effect on search results, it certainly made the results with authorship linked posts more enticing to click.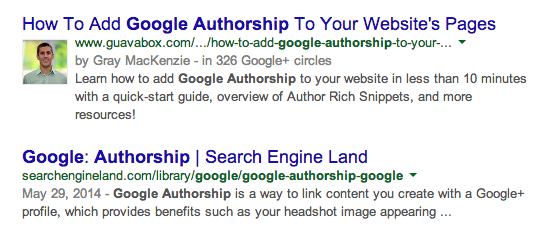 The screen capture above shows how the top result is more enticing to click-through due to the rich media.
Although with their latest changes, they have removed the thumbnail from the search results, and hidden the number of Google Plus circles that the author is in.
Time will tell what impact this has on click-through rates. One thing that we know for sure – Google has plans to tightly integrate Authorship into their algorithm, we just don't know how exactly yet.
For the time being, continue to make sure that all your articles are linked to your Google Plus profile.