It starts just like any other day. With a fresh cup of coffee in hand, you check on your website statistics using your preferred analytics program. Mid sip, it hits you. That normally beautiful climbing graph line, which represents visitors to your blog, is taking a dive.
Upon looking deeper, you find that your normal 50/50 split of desktop to mobile visitors has shifted to 90% desktop traffic and only 10% mobile., which is reducing your total traffic by over 40%.
After scratching your head, you check the calendar – Nothing looks strange.
Welcome To Google's Latest Update.
On April 21st, Google rolled out their global algorithm update targeting users using Google search on their mobile device.
If you're one of the many business owners caught up in this update, rest assured that it's a step in the right direction.
To put it simply, Google wants you to have your website looking less like the website on the left, and more like the website on the right.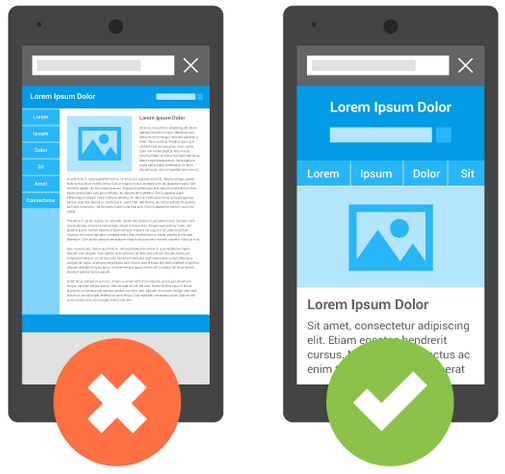 This not only helps people searching for content on their mobile device, but helps you as the business owner whose website a potential lead has landed on for information. If that information is displayed in an easy to digest manner, your visitor is happy.
Very Un-Google
In a very un-Google like manner, they published their plan on the Google Webmaster Blog prior to implementing this update. This is rare for Google algorithm updates, which are traditionally rolled out in without notice.
Starting April 21, we will be expanding our use of mobile-friendliness as a ranking signal. This change will affect mobile searches in all languages worldwide and will have a significant impact in our search results.
This strongly indicates Googles desire to not penalise website owners with this update, but rather to provide a better searching experience for it's users, and pushing the responsibility of this on you, the business owner.
Did Your Website Get Hit
Here's a few ways to test if your site has been affected by Googles mobile update.
Search for your site using your mobile device.
Simply add "site:YourDomainName.com" into the Google search box and if you see the mobile friendly badge before your sites description, Google has classified your site as being mobile friendly.
This has long been a feature when searching Google from a mobile.
Use Googles Mobile Testing Tool
Google has provided a simple tool that will give you a pass or fail result. Head on over to Googles Mobile Friendly Test
This test will only test a single page on your website.
Google Webmaster Tools
To test your entire website, Google's Webmaster Tool has you covered with their Mobile Testing Tool.
Run your verified site through the mobile testing tool and be presented with either a pass message: No mobile usability errors detected" or a list of issues to look into.
What To Do If Your Site Fails The Mobile Test
As with any update from Google, there's no fighting it. Think of this as a good chance to bring your website up to a modern standard.
Mobile responsive websites aren't a new thing. They've been around Cite note – Wikipedia. More so now,  than ever before, it's important to ensure your website looks great and is functional across all devices – Desktop, mobile, tablet etc.
This includes having a website with clean code,  images that adjust their image size and quality, and removing all flash elements on your site if you have any.
A simple test, is to resize the width of your browser on your computer. If content is being hidden off to the side of the screen, you need to either make some adjustments to your current website theme, or take this opportunity to refresh the entire site. Your website visitors deserve it.